Comfortable and affordable residence accommodations are available from early May to mid- August each summer. Chancellors House, Governors House, Founders House and the Townhouse Residence Complex can accommodate approximately 1000 delegates, visitors and summer students.
Suite Style (Chancellors House, Founders House & Governors House)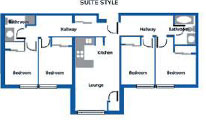 Built in 2001, Chancellors House is a six-story, four-bedroom apartment-style residence. A new wing was added in 2003. Founders House, a five- story, four-bedroom apartment-style residence was built in 1997. Both residences are conveniently located within a three-minute drive, or a pleasant 10-minute nature walk to main campus. The North Bay City Centre and waterfront are just a 10-minute drive from both buildings.
Each residence complex offers:
Apartment style suites; each unit consists of four single bedrooms, two bathrooms, kitchen, and common room
Each bedroom is furnished with a single bed, linens, desk, desk chair, telephone, closet, and chest of drawers
Each unit shares a full size kitchen with gas stove and full-size fridge. (Sorry, we do not supply utensils, dishes, or cooking equipment)
Each unit has two full bathrooms (one with shower and one with tub/shower)
Each unit has a common room, furnished with love seat, coffee table, and two lounge chairs
Common television lounges on most floors
Parking adjacent to the building
Each unit is air-conditioned
All buildings have common television lounges, vending machines, and coin-operated laundry facilities and assembly room
Guest services is located on the main floor at Chancellors House
Guest Services & Important Information
Common television lounges equipped with colour television and cable
Games Room
Vending machines
On-site coin-operated laundry facilities available
Parking is free and is adjacent to the building; public transit close by
Cable outlet in common area of suite (free) and each bedroom (available at an additional cost)
Telephone service (including voicemail) available at an additional charge
All residence & meeting facilities are non-smoking and pet-free
Check in time is after 3:00 PM – Check out time is 10:00 am
24-hour locked, security entrance
Our Rates
Please call, email or submit an inquiry for rate information. (Rooms are roughly $45 per night.)
Daily and Weekly rates include linen and local phone service. Monthly rates do not include linen, and voice mail service is optional. All guests are responsible for the cleanliness of the unit they occupy. All payments are due upon arrival.
"The university provides parking, accessible, comfortable conference room facilities and the latest high tech equipment. "